The Reading Room is conveniently located in the downtown core of Vancouver at 470 Granville Street, close to the local transport stations, offices and convention centers.
The Reading Room serves two purposes: a Meeting Space and a Study Hub that is open for geoscience professionals and their colleagues.
We provide an eclectic space that is a little different from your usual meeting room, complete with a range of facilities for your meeting needs. The space also comes complete with a variety of research tools that might be usually inaccessible to the consultant or graduate geoscientist, including microscopes, drafting tables, large scale printers and more. For a full gallery, click here.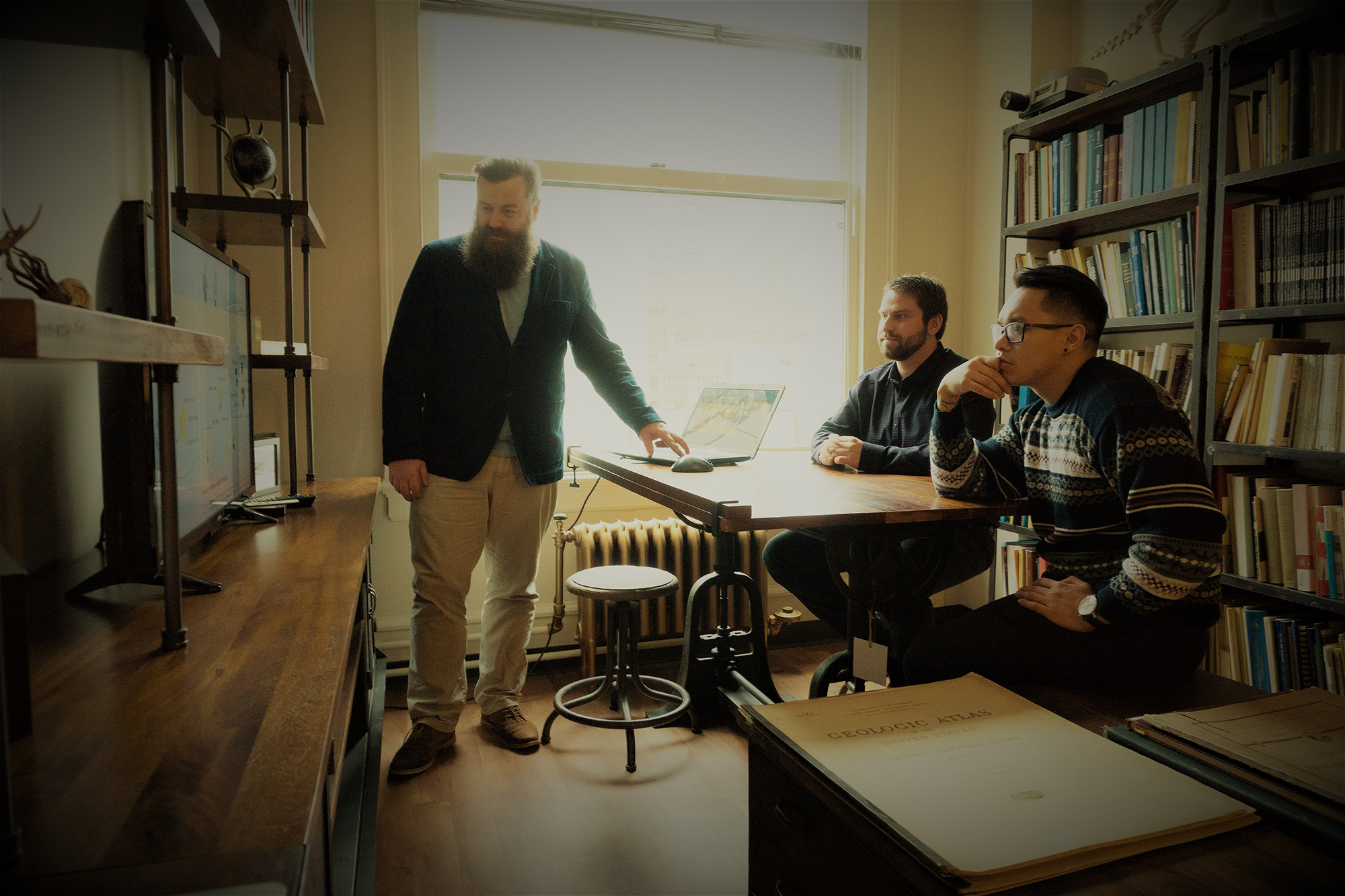 A Meeting Space
---
The room is perfect for small group meetings, of up to 6 people. Maybe you are travelling to Vancouver and need somewhere a little more quiet than a Coffee Shop to work.
This space is equipped to with versatile seating options and a 40" display screen for you to run presentations with. We can also supply stationary supplies for your meetings and critical caffeine packs.
Book for one hour, a morning or a full day, this space makes a great working spot when you are away from home.
Features
---
Versatile meeting space with two meeting areas
Accommodate up to six people
Perfect for out-of-town professionals or self-employed consultants
40-inch TV screen with HDMI connection
High speed fiber-optic internet
Presentation printing services
Catering options available (drinks, breakfast, lunch)
Conveniently located in downtown Vancouver
Online booking system
A Study Hub
---
This option is for the consultants out there - or students - looking for a spot to work while they are downtown and have access to on-demand amenities.
We have an extensive collection of physical and digital reading and research material, microscopes (including petrographic), two drafting tables and supplies and a large format printer should you need to print maps for projects.
We are also going to be introducing a pay-as-you-use workstation for various mapping software soon. This is an ideal space for you to work from and be surrounded by like-minded people!
Features
---
Group meeting area
High speed fiber-optic internet
Two drafting tables with mapping supplies
Microscopes (petrographic, compound and dissecting)
12 megapixel microscope camera
22 megapixel DSLR camera with macro lenses and lighting stage for sample photography
Large collection of physical and digital research material
Large scale printer
COMING SOON - Desktop workspace with mapping software
Book Now
---
Use the form below to reserve the space and complete your booking:
Choose the day you wish to use the Reading Room
Select the times from the drop down list (appears when you select the day)
Under 'Extras', select what facilities you would like to book (i.e. Meeting Space, Microscopes etc)
Select any additional refreshments you would like us to provide (please note that all snack platters require 24 hours notice)
Check your reservation details and then complete the personal details form.
Complete the reservation using Paypal (accepts credit cards). Note that bookings can be cancelled by emailing info@stratageodata.com. Refunds will be issued for the room / facilities, but unfortunately we cannot refund for any food / drink orders.