The Harrison  Lake project geology is composed of Mesozoic strata, ranging from Middle Triassic to Middle Albian (Cretaceous), characterized by both macro- and micro-fossils. The succession was deposited in a deep basin environment with volcanic infringements around the edge, eventually contributing to a tuff-dominated stratigraphy. Regionally, the area is mapped as volcaniclastics, lavas and sedimentary units of the Harrison Lake and Camp Cove formation.
Detailed geological mapping in the 1980's (Westerman, 1986) showed the units to be weakly metamorphosed to sub-greenschist facies, giving the Harrison Lake formation it's famous greenish tint. Within the property the Camp Cove formation is separated up into siltstones, green cherts, black argillites and conglomerates. While the Harrison Lake formation is dominated by volcanic sequences including dacite, andesite and rhyolite flows with dacitic to andesitic tuffs. Both the Harrison lake and Camp cove formation have been variably deformed with notable occurrences of folding and faulting sequences.
Mineralization has been previously related to two events in the area: Jurassic-aged seafloor volcanism creating "Kuroko-type" baritic, fragmental massive sulphide deposits, and Cenozoic-aged intrusions forming gold-bearing quartz-pyrite veins.
The Harrison Lake project can be accessed  from Vancouver via Highway 1, Highway 7 and then Morris Valley Road in about 2 hours.
A brief timeline of the discoveries and work completed on the current Harrison Lake claim is outlined below: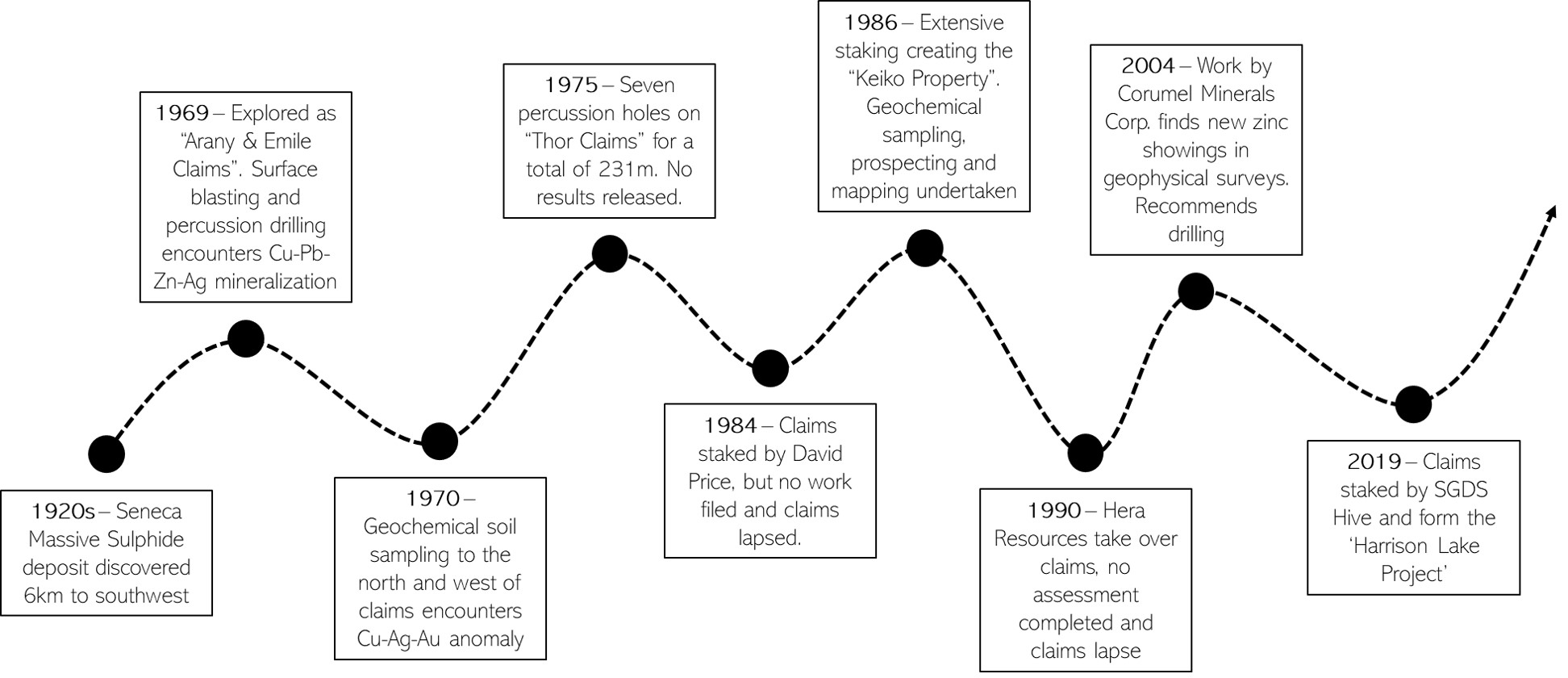 The Harrison Lake Project contains fourteen mineralized targets identified during historical mapping and prospecting programs. Anomalies A and B relate to gold bearing quartz-pyrite veins while anomalies C, D and E demonstrate typical epithermal signatures with gold and silver-lead-zinc polymetallic veins. Anomalies F, G and H are sediment-hosted massive sulphide occurances related to Jurassic seafloor volcanism. The four red 'SW' anomalies were noted in the 1980's as 'extensive stockwork zones', although only two are related to the later identified geochemical targets (Westerman, 1986). Recent field-work and mapping by SGDS Hive has suggested Anomaly E and the spatially associated stockworks are on-trend with north-northeast trending fault systems while Anomaly H and G are lithological-bound to pyritic siltstones and volcanic layers.
Exploration plans for Harrison Lake revolve around the current use of the site as a training center as well as a mineral project. Property-wide soil surveys, ground magnetic surveys and channel sampling are all planned for this site. SGDS Hive is currently completing a 1:1000 scale property-wide geological and structural mapping program of the Harrison Lake project.
Hive recognizes that the Harrison Lake project is located on the Traditional Territory of the S'ólh Téméxw (Stó:lō) first nation which spans from Vancouver in the west to Manning Park in the east and as far north as Skookumchuck.
We are currently working to build relationships with the S'ólh Téméxw (Stó:lō) First Nations and to understand and embrace the traditional use of their lands, as well as providing mutual opportunities.